"Una ruta de la tapa de película", desde este viernes hasta el 6 de octubre, mezcla gastronomía, cine y música coincidiendo con el XI edición de Fimucité.
La ciudad y el puerto se miran más que nunca este fin de semana con el festival #SantaCruceros2017, organizado por la Factoría de Cohesión Puerto-Ciudad (FACOCIP) con multitud de actividades relacionadas todas con el puerto y su importancia en la capitalidad de Santa Cruz; deporte, con la 1ª Carrera Puerto-Ciudad; visitas escolares; expositores o ponencias en ciclos de charlas, entre otras. También desde este viernes llega "Una ruta de la tapa de película", hasta el día 6 de octubre; la X Feria Natura Salud, en el Recinto Ferial, además de teatro, danza, cine y música para completar una oferta para toda la familia.
El viernes, desde las 17:30 horas, regresa la actividad Cuentos en Familia a la Biblioteca Municipal Central (TEA), en esta ocasión con "¿Te lo cuento otra vez?", con los narradores orales Miguel Ángel Granados e Isabel Bolívar, para familias con niñas y niños a partir de los 3 años. Y también para los menudos, en este caso entre los 5 y los 13 años de edad, la Sala de Ámbito Cultural de El Corte Inglés, prevé para este sábado, de 11:30 a 12:30 horas, un taller de desarrollo intelectual para niños, en el que se trabajará con el ábaco japonés, juegos de memoria y concentración y "flash cards".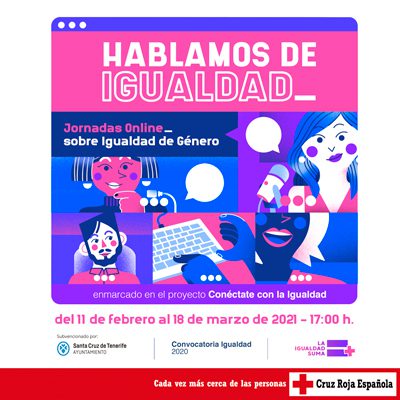 El Festival #SantaCruceros2017, que se celebra de viernes a domingo, a lo largo de todo el día, tiene como objetivo unir la ciudad y el puerto, precisamente en lo que lleva trabajando dos años la Factoría de Cohesión Ciudad-Puerto (FACOCIP). Un evento de interés ciudadano y para las organizaciones del entorno portuario en el que tiene lugar la unión entre Santa Cruz y el mar. Por ello habrá cultura, ocio, música, exposiciones, talleres, visitas escolares y artistas, entre los que destaca el humorista chicharrero Aarón Gómez, el domingo, a las 18:00 horas, en la Cubierta de la Estación Marítima de la avda. Anaga. Más información Aquí
Dentro del Festival #SantaCruceros2017, FACOCIP, Puertos de Tenerife y el Ayuntamiento de Santa Cruz de Tenerife han organizado, con el patrocinio del área de Juventud del consistorio capitalino, la primera edición de la carrera Shore Sports Run. Esta prueba deportiva, abierta a todos los públicos, discurrirá por un circuito de cinco kilómetros que se habilitará en el entorno del Puerto de la ciudad, el sábado, desde las 08:30 horas, cuando se recibirá al medio millar de participantes previstos, y luego, a las 09:30 horas, el pistoletazo de salida desde la Dársena de Los Llanos.
También de viernes a domingo, en esta ocasión en el Recinto Ferial, desde las 10:30 a las 20:30 horas, tendrá lugar la edición de Natura Salud 2017, punto de encuentro bienal entre la oferta y la demanda de servicios y productos relacionados con la salud y la calidad de vida, que a lo largo de sus nueve anteriores ediciones se ha confirmado que no sólo es una cita obligada para los profesionales del sector, sino que se ha convertido en un lugar de encuentro para que el público adquiera productos naturales, conozca la oferta existente y descubra una forma de vida más sana. Información detallada Aquí
El viernes, a las 17:00 horas, en la Biblioteca Pública de Santa Cruz (Casa de la Cultura), tendrá lugar el taller de creación literaria "Corto y cambio", impartido por Criserey Oropez, que basándose en la técnica de escritura creativa "cut up", se explorará la creatividad destripando los textos seleccionados de los participantes. Se buscará nuevas composiciones literarias azarosas, inconscientes y reveladoras en los textos de los autores favoritos escogidos por los allí presentes. Como culmen de la experiencia se compondrá un "Cadáver Exquisito" a partir de las frases seleccionadas por los exploradores participantes.
 "Una ruta de la tapa de película"
Desde este viernes y hasta el 6 de octubre, casi una veintena de locales de restauración, ubicados en la avenida Francisco La Roche y su entorno, participarán en esta iniciativa gastronómica, coincidiendo con la celebración del Festival Internacional de Música de Cine de Tenerife (Fimucité), organizada por la Asociación de Empresarios y Comerciantes de la Avenida Marítima (AECAM), con el patrocinio de Dorada y colaboración del Ayuntamiento de Santa Cruz, a través de la Sociedad de Desarrollo, del Iberostar Gran Hotel Mencey y de la agencia sieteviajes.com. Información sobre locales, tapas y cócteles Aquí.
Precisamente, dentro del Festival Internacional de Música de Cine de Tenerife (Fimucité), el Teatro Guimerá acoge este sábado, en dos funciones, 19:00 y 22:00 horas, el espectáculo "Tarantino Unchained", de la de la mano de The Pop Culture Band, artífices en entregas anteriores de Fimucité de las exitosas puestas en escena de "Back to the 80's", "Back to the 90's" y "That'70s Show". El repertorio que prepara la banda canaria liderada por Gonzalo de Araoz (guitarras) incluye piezas de películas como "Pulp Fiction", "Reservoir Dogs", "Jackie Brown", "Kill Bill Vol.1 y Vol.2" y "Los odiosos ocho", entre otras.
Sin abandonar la música, destaca este viernes, a las 21:30 horas, la actuación de la cantante tinerfeña Marta Solís en el Café Teatro Rayuela. En su trayectoria, tres trabajos discográficos importantes, "Promesas", "Sin límites" y el actual "Nido", además de colaboraciones con otros artistas y actuaciones en Madrid como cantautora mientras se licenciaba en Publicidad y Relaciones Públicas en la Complutense. Por otra parte, este mismo día, pero en el Ocean Club, a las 21:00 horas, actúa El Chojín, con su "Recalculando ruta", intérprete y compositor madrileño de rap, con letras comprometidas y ausencia de palabras malsonantes.
Y dentro del Festival Cultural MusaIndia, en el Museo de la Naturaleza y el Hombre, a las 21:30 horas también de este viernes, con entrada gratuita hasta completar el aforo, se presenta Dj Chuso, uno de los mejores BDM Dj (Bollywood Dance Music) en España, con un estilo único de combinar Bollywood, "house" y sonidos electrónicos. Pincha en la mayoría de las fiestas y bodas de la comunidad india en España e incluso fuera del país.
Tenerife Espacio de las Artes (TEA) proyecta desde este viernes al próximo domingo, en dos pases diarios, a las 19:00 y 21:30 horas, la película australiana "Tanna", dirigida por Bentley Dean y Martin Butler. Se puede ver en versión original en nauvhal, con subtítulos en español, y descubre un drama romántico basado en hechos reales sobre el pueblo indígena Tanna, en la república de Vanuatu, un pequeño país que se encuentra en la Polinesia del Pacífico, y centrado en la historia del amor prohibido que surge entre una joven del poblado que se enamora del nieto del jefe de la tribu.
El teatro se inicia desde el viernes, a las 20:30 horas, en el Círculo de Bellas Artes, al que llega "La coleccionista", una hilarante e inteligente comedia protagonizada por la versátil Crisol Carabal, acompañada por María Laura Marrero y Gabriela Andrade. Sin abandonar este espacio teatral, el sábado, a las 17:00 horas, se representa el clásico "Pinocho" y en sesión de tarde-noche, a las 20:30 horas, otra comedia, "¿Y tú quién eres?". Y el domingo, a las 18:30 horas, "Cada loco con su tema", que en realidad son cuatro historias interpretadas por los estudiantes de teatro del Círculo de Bellas Artes a cargo de su directora, Crisol Carabal.
El Teatro Victoria, por su parte, presenta la danza "Cicatrices", de la compañía de la bailarina y coreógrafa Lucía Marote, sábado y domingo, a las 20:30 horas, que "habla de dos personas que se encuentran y se fusionan, hasta separarse violentamente, generando una herida y mucho dolor. No se evita el dolor. Tampoco se busca. Expuestos a él, y si se presenta, lo miramos de frente para encontrar el camino que lo atraviese y nos atraviese. Se trata del camino para trascender la herida, sanar, cicatrizar. Y se trata de belleza, de la belleza de unos cuerpos que conservan señales de haber vivido", relata su creadora.
Por otro lado, en el apartado de las fiestas patronales, El Toscal tiene previsto para el viernes, desde las 20:00 horas, la recreación romera del Cristo de Paso Alto, consistente en la celebración de un paseo con la imagen rememorando la costumbre que sus habitantes para agradecer la protección que dio la imagen a la ciudad durante el ataque de Nelson. Al día siguiente, sábado, desde primeras horas de la mañana, tendrá lugar el Pisaca Fest, en el entorno de las canchas deportivas. Habrá atracciones para los más pequeños y actuaciones musicales de la Joe's Band, Trezo y las murgas La Traviata y Ni Pico Ni Corto.
En Santa María del Mar, continúan los festejos, este viernes, desde las 17:00 horas, con las finales de las competiciones deportivas y las actuaciones musicales; el sábado, desde las 19:30 horas, la Gran Gala de Elección de la Reina Infantil, y el domingo, desde las 12:00 horas, actos vecinales en la plaza del Centro Cultural y posterior Eucaristía, procesión y fuegos artificiales.
En Cueva Bermeja este sábado, desde las 10:00 horas, organizada por la AAVV Virgen de Loreto, habrá juegos manzana, saco, colchonetas hinchables, pintacaras, concurso de postres, Fiesta de la Espuma e hinchables acuáticos, entre otras actividades. Por su parte, en El Draguillo, en honor de Nª Señora de la Merced, este domingo, desde las 11:00 horas, habrá fiesta infantil con castillos hinchables, procesión por las calles del barrio y, a su término, exhibición de fuegos artificiales. Organizado por el Distrito Suroeste y la AAVV El Drago.
Exposiciones temporales
Desde el pasado jueves, se expone en Área 60 de Tenerife Espacio de las Artes (TEA) "Combinar visible", la tercera y última de las muestras que conforman la séptima temporada de esta sala. Se trata de una colectiva que podrá visitarse hasta el 15 de diciembre, de martes a domingos, de 10:00 a 20:00 horas, conformada por obras de Dani Curbelo, Esther Elena Pa, Vicente López de la Torre, Itsaso Otero y Cristina Regalado, comisariada por Raisa Maudit y Alby Álamo.
En el Círculo de Bellas Artes, tres exposiciones sobre el mundo del cómic que estarán hasta el próximo 8 de octubre: "Canarios, superhéroes en USA", dibujantes de este archipiélago que juegan en la primera liga del cómic Marvel y DC Cómic: Javier Pulido, Ángel Hernández, Paolo Armitano y David López; "Steampunk y Retrofuturismo", una colectiva con más de una quincena de artistas, y "Cómic Sans Frontières", con 14 autores que tienen como padrino al excepcional Moebius. En horario de martes a viernes, de 10:00 a 13:00 y de 17:30 a 20:30 horas. Sábados, de 11:00 a 14:00 horas. Domingo, de 17:30 a 20:30 horas.
Mención aparte, por su carácter permanente, merece la Casa del Carnaval de Santa Cruz de Tenerife, ubicada en el barranco de Santos, debajo del puente de Galcerán. Abierta todos los días, de 09:00 a 19:00 horas, y con entrada gratuita hasta el mes de septiembre, cuenta con la última tecnología para amenizar la visita y ofrecer al público una verdadera inmersión en la fiesta chicharrera. De esta manera, existen diferentes espacios interactivos con varias pantallas táctiles donde se ofrece un tour virtual en 360 grados en el que se muestran los actos más importantes como concursos, entierro de la sardina o Carnaval de Día.
Por otra parte, en el jardín botánico de Santa Cruz "Palmetum", que abre de lunes a domingo, se ofrece al visitante un recorrido por el que está considerado como la mayor colección botánica de palmeras de islas tropicales del mundo. Su horario es de 10:00 a 18:00 horas y su precio para adultos residentes canarios, 1,50 euros; para desempleados, discapacitados, mayores de 65 años, menores de 12 años y familias numerosas, 1 euro.
Además, la Sociedad de Desarrollo ofrece dos recorridos de una hora de duración en español e inglés: la Ruta Histórica y la Ruta del Parque García Sanabria. Las personas interesadas en realizar cualquiera de estos dos recorridos deberán efectuar una reserva previa a través de correo electrónico: tenerife@cityexpert.es o en el teléfono 922 29 97 49. La salida está programada para las 12:00 horas desde la Plaza de España. Tiene un precio de dos 2 euros para residentes, ONG y Centros educativos y de 5 euros para no residentes en Tenerife. Son gratuitas para los clientes del bus turístico City Sightseeing.