El centro de Wind- & Kitesurf más grande del mundo, René Egli by Meliá situada junto a los hoteles
Meliá Fuerteventura y Sol Beach House at Meliá Fuerteventura, celebra un año más el campeonato del mundo de estos deportes acuáticos.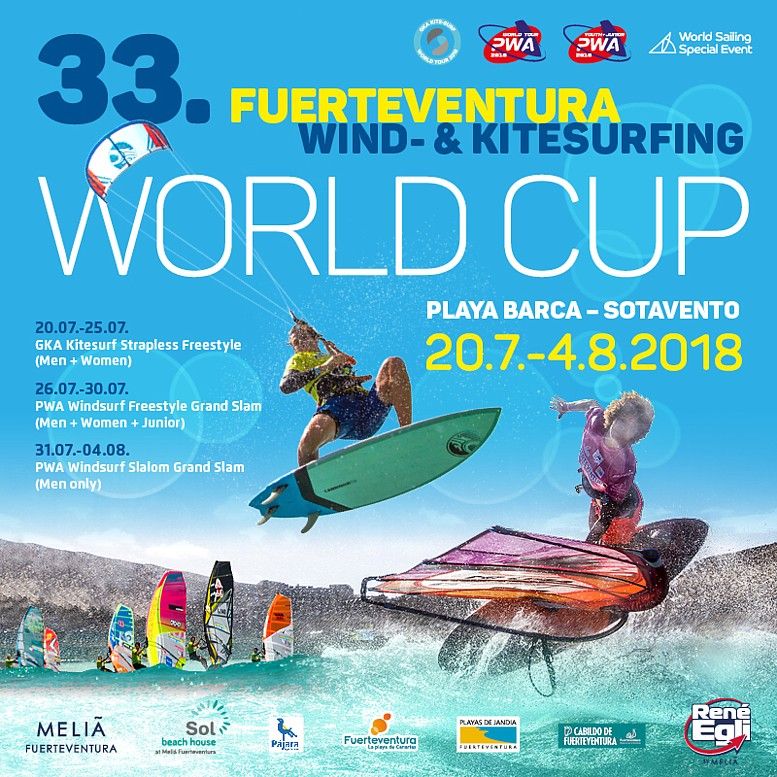 René Egli by Meliá celebra por 33 año consecutivo el campeonato mundial de windsurf y kitesurf. La escuela, propiedad de Meliá Hotels International desde hace tres años, se ha convertido en el punto de referencia en estos atractivos deportes acuáticos y en el destino perfecto para los amantes de los deportes en el mar junto a Sol Beach House at Melia Fuerteventura y Melia Fuerteventura.
La competición da comienzo el día 20 de julio y finaliza el 4 de agosto y consta de tres etapas llenas de vertiginosa acción al alcance de la mano en este enclave privilegiado de Fuerteventura: del 20 al 25 de julio tendrá lugar el GKA Strapless Freestyle de kitesurf (estilo libre). Del 26 al 30, el Grand Slam PWA de Windsurf (estilo libre) y finalmente, del 31 de julio al 4 de agosto el campeonato llegará a su fin con el Grand Slam PWA de Windsurf slalom. Cada disciplina cuenta con la participación de los líderes del ranking mundial:  Airton Cozzolino (Italia) en GKA Strapless Freestyle, Gollito Estredo (Venezuela) y Sarah-Quita Offringa (Aruba) en PWA Windsurf Freestyle y Matteo Iachino (Italia) en PWA Windsurf Slalom.
Durante las emocionantes sesiones protagonizadas por las estrellas mundiales del windsurf y kitesurf también tendrán lugar las legendarias fiestas nocturnas del Campeonato del Mundo, en una carpa con degustación de deliciosas especialidades de establecimientos colaboradores locales, música en vivo de la mano de conocidos artistas como Jarabe de Palo, Major Lazer y Karol G; y un programa variado para toda la familia en un ambiente único.
Sol Beach House at Meliá Fuerteventura es el marco ideal para unas vacaciones relajantes llenas de experiencias mágicas en la isla del viento. El Hotel tiene una ubicación única y privilegiada en la playa de Sotavento y las instalaciones han sido diseñadas para transmitir una sensación de espacio y sencillez que ayude a disfrutar al máximo de la calma y el relax. El diseño está inspirado en la naturaleza y los elegantes diseños de Desigual fluyen en sus 144 habitaciones, zonas comunes y uniformes del personal. Este Hotel cuenta con una fantástica piscina, terrazas con tumbonas y actividades de yoga y pilates al aire libre.
Melia Fuerteventura, localizado junto al anterior dispone de una expectacular pisicina lago de 1.455 m2 de agua salada, piscina Tropical y piscina Infantil. Además, cuenta con el exclusivo Servicio The Level
René Egli by Melia la escuela de windsurf y kite más grande del mundo, ofrece cursos y alquileres de windsurf y kitesurf directamente en la playa y en la laguna frente al hotel.
Acerca de Sol by Meliá
Desde 1956, los hoteles Sol han estado proporcionando experiencias únicas e inolvidables. Para millones de clientes, se trata de las vacaciones por excelencia. En verano de 2015 Sol relanzó la marca con cuatro nuevas firmas: cuatro conceptos de vacaciones diferentes. Por ello, en Sol no solo se venden vacaciones, se crean. Son los Holiday Makers o Creadores de Vacaciones, pensando en los nuevos perfiles de demanda de vacaciones de sol y playa.
Sol House está enfocada a jóvenes millennials, incluyendo amigos y parejas, con un alto componente de música, diseño, energía y experiencias económicas. Sol Beach House está destinada a adultos que buscan unas vacaciones relajantes con un estilo hippie-chic que combina la modernidad con un toque vintage. Los hoteles Sol están diseñados para aquellos que buscan una nueva versión del tradicional concepto de sol y playa con una gama de servicios para familias; mientras que Sol Katmandú Park & Resort ofrece una divertida e innovadora experiencia play and stay para familias y grupos de amigos con el hotel integrado en el parque temático.
Sol Hotels & Resorts se localiza en la costa del Mediterráneo, las Islas Canarias, el sudeste de Asia y el Caribe. Para más información de Sol, visite la página www.sol-hotels.com